Discover more from Ultiverse 🪐 🥏
The blog with updates from the wider Ultiverse. Basically the Ultimate Media Company. We write about ULTI.TV, ULTILEAGUE, Finfina.org and other (future) grass roots Ultimate (tech) initiatives. Stay up to date, join the conversation and share our posts fr
Over 1,000 subscribers
For background, I'm a freelance (web, game, user experience) designer, teacher, campaigner and (content, video, media) producer for half my time for 14 years. The other half of my time I love to volunteer for causes and set up businesses that fix the world. With the Dutch Ultimate community I work on Windmill Tournament and with the global Ulti.TV crew I set up the ultimate league.
I'm doing the work I believe I was born to make and I would like to challenge you.
Why are sports segregated? Why are sports owned by a few rich? Why are kids attracted to video games and social media? Why is there few constructive media?
These 'why' questions have power, they help when we want to do something seemingly impossible we could ask ourselves 'what if' questions and they give way to "how" questions. These questions sparked ideas and they turned into a plan.
---
What if Ultimate competes with video games?
Sports are of immense importance in the development and health of children and young adults. In this time video games are competing heavily with physical sports. I was 17 when I wrote my high school thesis about electronic sports—esports—being an exciting new sport. I was playing these live online games because I enjoyed playing as a team and these online games were exciting because of the infinite ways you could improve.
I have played multiple sports (field hockey, soccer, American Football, esports and Ultimate) and as a designer I try to wrap my head around the mechanics of sports.
Ultimate has a few problems.
The biggest problem is that it's not fair that if you're not wealthy enough, you can't play on a high level. Because of that—and for more reasons—it's played within this cult-like bubble.
We're working incredibly hard with a team of more than 30 people globally on the tightest budgets to broadcast ultimate and we still can't grow the sport substantially. These budgets mostly come from players, or direct family members of players.
What if players do not have to pay to play? What if they can make a living with growing the sport? What if the players work to make Ultimate a better entertaining product?
There are too-many-to-mention amazing initiatives, people and volunteers working to grow Ultimate. Lots of them focus on the US and I understand that because there's where the biggest market is for players, but what if we don't focus on the players?
Ultimate being a cult is not necessarily bad, but it results that the sport can't compete with video games and existing sports.
What if media shows an equal and uplifting world?
Kids see examples and role models in entertainment and media of all kinds. People are inherently good and kind, but that's not what the people in power want you to believe.
We're in a global health, financial and equality crisis right now. With each major crisis, the relationships have been reinvented between individuals, organisations, and governments. We're building a new World, a new economy.
What you see on TV, YouTube, social media, what you see on screens in bars, what you experience in an impressive stadium is considered normal. All people are conditioned with what they experience and what they see on screens.
Inequality in gender, politics, economics, culture, etcetera creates a mostly invisible unfair playing field in the world which is dividing people.
How people see and treat each other now and in the future is decided by media and the conversations we have online and offline.
Most major sports are segregated in gender and that's the example everyone sees right now. Additionally, the unfair pay and almost god-like status of male soccer and cricket players is just unnatural.
The screen is at best the biggest smallest canvas we have to show more positivity in the world, it reaches billions of people through the Internet.
What if everyone everywhere can see and experience the spirit of Ultimate online and binge that. Good drama will go viral, funny (disc)memes from the fields, beautiful human interactions.
What if we can make a media organisation that is exciting, uplifting and inclusive?
Mixed is a positive and encouraging narrative.
There's the simple fact that you can't score alone in Ultimate, which is so powerful, you have to work together.
Compilations and highlights of diverse cultures playing together charmingly and competitively. We have enough examples of compilations of men scoring goals by themselves, explicitly promoting egoism.
No one is equal offline, online, local, global until everyone is equal. What if people can contribute to a a media platform where they can take stands and spread positivity?
---
How to get more fans?
How can we expose more people to the 'ultimate sport' within existing sport power structures?
Every event and video and social media post out there should be focused on adding value to the members and fans.
The AUDL and PUL focus on fans, the difference is that we will not use (as much) initialisms and abbreviations because they're not that helpful—maybe sneaky, what if ULTILEAGUE is an acronym? The difference is mainly that they sell a different story.
Mixed is a fairly unique and sexy story in sports and a format that attracts attention. We grow by consistently growing our fan and member base from a good starting point, it doesn't matter how niche that start may be.
UltiWorld is pushing out good content on a consistent basis, but they push many different stories, and they focus on Ultimate nerds. To really make a dent and grow memberships consistently we need a unique story with an integrated concept of a league; a combination of events, content production and distribution. Similarly what you see with Dota 2 and 'the International' tournament.
"The transformative impact of the Internet is only starting to be felt." Within never ending niches, local reach comes from a global scale.
Every region, starting with Europe, will organise locally and publish content globally for about two months with a bit of overlap. Six regions pushing out content all year around is what makes a consistent high quality story.
Ultimate players have Ultimate friends and are part of a community, thousands of them already pay €10 a month for a streaming service. They should be able to directly pay for a good Ultimate entertainment product through one platform that offers value all year.
The power of social networks can be leveraged. The network effects of Players isn't leveraged yet. First people subscribe, then they can become a member. From the neighbourhood you grew up in, the people you work(ed) with, or people from the school you attend(ed) can become members of your unique story.
Everyone is craving for a (new) positive narrative. Hope scales better than anything.
They become a member, they follow the story, they engage, they get a positive and entertaining product. Children can grow up to see positive and exciting competitions and interactions that show the possibilities in an equal and exciting world.
We need 12.000 members per region paying €70 (progressive per region) per year in total to pay for a season. Email me if you want to see the math on that. I'm optimistic that we can already achieve that within a regional Ultimate community, let alone the future fans of family and friends and colleagues.
In comparison, in Amsterdam people pay at least 240 Euro for a similar soccer season and then you can't watch games on TV, that's another subscription of 18 Euro per month.
Let's put that in perspective. We need about the money to have a full regional season which UK's organisation 'Kick It Out' received in funding last year. Their aim is to kick out racism just in British soccer.
My quantitative and qualitative research also shows worldwide people will become a member of the European start of UltiLeague when they can see the games, plus vote to have the néxt season in their region.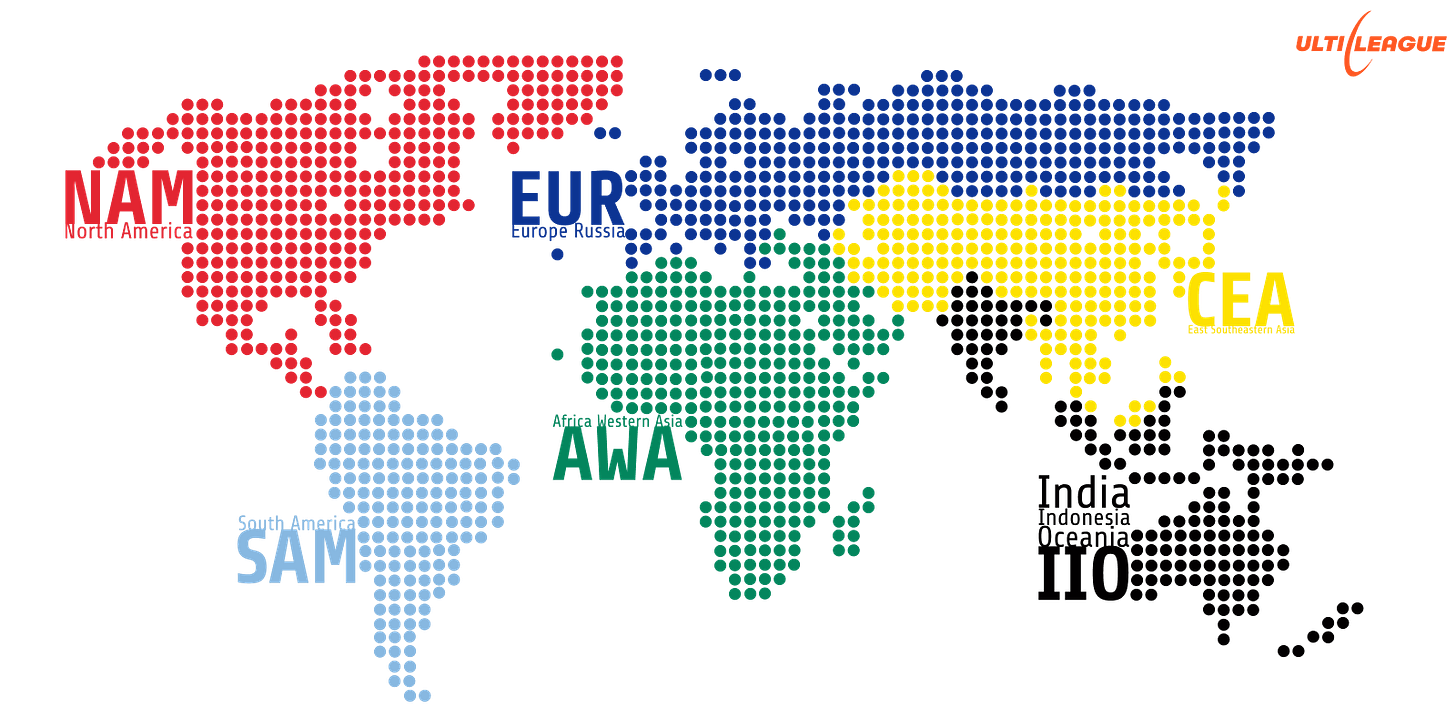 From EUR to AWA, SAM, NAM, IIO or CEA?
With Ulti.TV we have an in house production company ready to film and distribute anywhere. We have high value for money production capabilities spread out over the world.
We have a crew ready to commentate, edit and produce the ultimate sport. When we will get more budget from recurring memberships, we can grow the team and we can do even more and better work on a continued basis.
We will build an inclusive media and event platform for a fair and positive sport. Fear is a powerful force in media, but love is more powerful! 💚
How will UltiLeague events feel?
The media is one thing, the events are where the magic happens.
We want to change the way people interact in the world, online and offline.
Many watch sports to relax and socialise with friends, colleagues and family, it's that moment when people take their guard down and open their minds.
Video games can have lively communities but don't have enough of an offline aspect that can change the way people interact in the world. There are championships, sure, but they can be boring too, which I can attest in exhibit #1 and #2. Also, there's almost no mixed in esports.
We are organising a showcase in Europe this year which promotes the ideas and plans we have. We are working with existing tournament organisers and clubs right now to make that happen.
A shift in mindset for local tournaments organisers is needed. They will offer entertaining game days for fans, not for the players. We'll take care of the athletes, but the events are aimed at the fans.
The game days will be close to home engaging experiences for everyone. They will start small, simple and powerful, and will grow organically along the way.
Sports should mirror society. Kids will experience men and women and different cultures collaborating on and off the field to make the sport happen.
The game days will not be the only events. We also need to go to the people. Next to playing the season, players will be going 'out there' in communities to have more people experience the sport.
We will offer clinics at schools and workshops for companies alongside memberships. And we will sell memberships within these events. These activities not only grow UltiLeague's presence but also Ultimate where local clubs benefit from. New children and adults join from events, we've experienced that in the Amsterdam community.
The players and teams that do better with outreach see their communities grow further. These activities are integrated into the UltiLeague 'economy' so that we enable the players to do their best and most influential work.
Tournament style intimate events for the fans, covered and broadcasted on the Ulti.TV channels. Workshops and clinics in schools, companies and communities by players.
How can Ultimate compete with video games?
We will create a global economy where people on the internet add money or add value through work and get memberships in return.
Many people in the world have more time than cash, that's a powerful principle. UltiLeague will give people tools to build, manage, edit, create, sell, influence and the economy and the world rewards them.
We are designing an incentive structure that works to give members influence in the ecosystem. We will either make this centralised or decentralised. We will make this centralised like an online video game, or we will make this decentralised like an Internet economy (cryptocurrency).
If you work for the members, you work for the right people with the right motivation. With the thousands of people following UltiLeague 🤟right now we can kickstart this ecosystem.
On a global scale the mechanics work so that existing regional leagues will kickstart and fund the next region. This pushes the global ultimate economy forward just as the normal economy.
We will be increasing value as we get bigger because the entertainment product online will be the same for other regions to enjoy and back and forth.
Members + Makers + Players + Internet = a magical sports league.
We're in talks with design and game studios right now to partner up with us to achieve not only this but also to add a video game layer. See it like an endless strategy game, a Massive Multiplayer Online Real Time Yay Sports Strategy (MMORTYSS) game, yeah I really needed to add that Y.
How do we work with companies?
Over my years organising Windmill I have been in talks with sponsors, and with UltiLeague with Ultimate related sponsors. Where do commercial sponsors come in? How can we align with companies as collaborative partners?
No one likes ads. Sports fans are bombarded with advertising.
The smallest member activity is to gift content. What if members can gift a live game to their social networks?
This ecosystem of people will share game live streams, highlights, summaries and promo's freely on social media, this content is gifted by members. This is similar how journalism in the world is globally improved by the Correspondent, they are unbreaking the news cycle and their niche is growing fast.
"This live game from Bogotá is gifted to you by paying member Elaine van den Bovenkamp"
This is also how video game streamers make money, plus patreons are mentioned with their name in content/streams.
Sponsorships in sports right now is either too small or too big, there's no easy way for smaller good companies to get the desired reach connected to a relevant story. The other way to buy visibility is online advertising.
Online ads no longer work. Google and Facebook have taken all the available ad cash online and do we want to work to fund big tech or spread our vision for the world?
Member driven is key because then we the people can control our vision going forward, instead of companies with big pockets. This is a more sustainable model.
The only way we want to partner with companies is to create strategic alliances to reach more fans and members. Because if we do what members want, we can't fail.
The community (members, players, contributors) will always be in control because they have the biggest seat at the table.
Our league will be all about practicing what we preach. Companies can add products and/or services to the ecosystem in a natural way. This can help us save money which in turn can be put back into the ecosystem.
Airbnb didn't just write a check for the olympics. They support their sustainable objectives offering their platform. For comparison, if 10 fans book a bed in a host country, economically it would makes to offer 1 bed in kind to staff/athletes.
Consider that for Eurail, Booking.com, Takeaway, Accor Hotels, etcetera. These companies look for ways to give back to the community, and with that naturally promoting their products and services online for the short and long term.
It should feel natural that we partner up with a company. For us, partnering with a beer brand would be one that would align with our principles (community driven) that not only brews beer, it has bars around the world where members can host viewing parties. For example, Brewdog would be a company like this.
For digital products the margins are even higher, we use Trello, Airtable, Webflow, 1Password, Typeform, Zapier, Whereby, WeTransfer, dropbox, etcetera for our online operations, they can give use their digital products in kind so that we can show we use their products to do what we do.
For physical products we could take things on cost price in exchange for the same natural mentions of our operations. Think of production vans to move the crew around in regions or urban cargo bicycles (bakfietsen) for clinics/workshops in parks.
I work in marketing (for too long now) and if there's one thing I learned is that you need to reinvent yourself constantly. That's why I would say this combination of affiliate and influential marketing, I would claim as 'natural marketing'. It's my new thing, and It's like product placement, but then in real life.
Companies can trade their (digital) products or services to connect to creative positive online/offline content. Naturally, partners attract more members, more members attract more partners.
Additionally, companies can buy bulk memberships as a tax advantage that are non voting but can be used to give their employees or partners the experience to visit the events and see the streams. These passive memberships are useful for a global consultancy firm like EY, so their employees visit the game days worldwide.
The community is driven by the league. The league is driven by the community.
---
The next 10 years
The details above describe in detail how we want to see and experience a more equal, mixed and fair world within 10 years. Community engagement and partnerships are at the forefront of this.
UltiLeague exists to change the way people around the world interact. We're on a mission to make fair and mixed sport the new normal.
In short, the Ultimate master plan:
Organise a showcase season with founding members,

With that value and content attract members to organise a full season,

Alongside memberships sell clinics and workshops to attract partners and more members,

With members discuss and vote on which new region will be next,

Repeat steps 1 - 4 for new regions until at least 6 regions are live,

Organise competitions between regions worldwide and grow to include more countries that can compete within regions.
You could say it's harder to transition to sustainable energy—h/t Elon—but fair sports is a pretty epic mission too. I just hope there's no trademark on a master plan 😅.
\/ Give it a heart to show when you've come so far to read it all the way to the end… 🤟🏾